JUMAQUI MAMANI
The ART GALLERY | 6255 SW 8 ST. | MIAMI FL. 33144 | 786-487-1992
---
Your Name Paint ! The art of beautiful writing,


Your Name Paint Art, Talented artist will paint names for your guests at your event for them to take home and enjoy. Letters are formed with animals, birds, and flowers creating beautiful works of art

JUMAQUI INC. Miami Artista Profesional en dibujo y pintura CONTACT: 786 487 1992 E-mail :

chez@jumaqui.com LOCAL: 6255 sw 8 st Miami Fl.

33144

Contact form
---
---
Miami Calligrapher Local Artist, mixes literature and painting, You can order personalized characters, school or organization names, friends, family's names, etc. instead of the above examples, multi-colour calligraphy sample paintings of "Happiness, Love, Peace" "Happiness, Wealth, Longevity" "Happy Family"  CALLIGRAPHY, is a mix of writing and drawing. It is based on studies of sketches, forms, rhythms of composition, and abundant use of color. Discover a new way to express your creativity. Please let Jumaqui Mamani know your preferences. For example he paints dolphins, fish, marlins, giraffes, lions, dogs, cats, pandas, butterflies and any other animal or insect that you desire. Calligraphy, the art of beautiful writing, can be used in many ways.
CALLIGRAPHIE, Jumaqui Mamani mélange la peinture et l`ecriture, Il est basé sur études de croquis, formes, rythmes de composition, et usage abondant de couleur. Découvrez une nouvelle façon d' exprimer votre créativité. Votre prénom en calligraphie picturale. Peint à la main et selon l'inspiration, dans un dégradé et une harmonie de couleur, sur un papier brillant de qualité. Chaque calligraphie est unique, Encre indélébile. Si vous avez des préférences de couleur n'hésitez pas à me les indiquer. Caligrafía Miami, Jumaqui Mamani mezcla pintura y escritura una manera de entrar en un universo lleno de color, ritmo, armonía, exotismo, con el solo proposito de deleitar la visión y darles esa luz colorida al espacio que usted desee, personalisando asi el nombre del ser querido, un regalo original y único firmado Jumaqui
---
JUMAQUI Frances-Peruano multifaceted Artista
---
The painter, artist, and much more.
Jumaqui is a rare artist, who paints with his own style, capturing hearts and souls all over the world. He was born on the Titicaca lake shore at 4000 meters, in Puno ( Peru). All of Jumaqui's family members are musicians, artists, and athletes. Jumaqui spent most of his childhood studying inside the Fine Arts College in Puno, where his mother worked and ran a restaurant. Jumaqui was born with an artistic spirit including an intense passion for color, beauty, and creativity.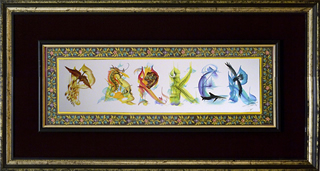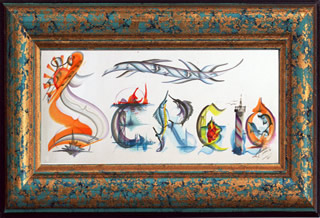 Name painting art - original work of the artist The artistic name birthday children newborn gift idea Condition:--
"NAME ART PAINTINGTurn your name in to a work of art. A talented artist will paint names transforming " ...
Price:US $35.00 Buy It Now - FROM EBAY

Free shipping 30-day returns Ships from United States Shipping:
FREE Economy Shipping | See details Item location: Miami, Florida, United States Ships to: Worldwide Delivery: Payments:
Item specifics Seller Notes: "NAME ART PAINTING Turn your name in to a work of art. A talented artist will paint names transforming the letters into animals, birds, or flowers. You will be proud to frame and display these beautiful favors.." Listed By: Artist Originality: Original Quantity Type: Single-Piece Work artwork painted on cardboard 12x36 inches : Papel Cartulina Bristol Features: Carton Bristol, Personalized, Signed
Jumaqui Mamani Artist
SU NOMBRE EN CALLIGRAFIA YOUR NAME PAINT ART VOTRE PRENOM EN CALLIGRAPHIE PUEDE COMUNICARSE CON NOSOTROS EN INGLES ESPANOL Y FRANCES I speak Spanish, English and French When you order please let me know Gender of name. (Such as Female, Male, Family name etc.) Please email me the name desired to painting. Name Art Drawings. Hand-Brushed Rainbow colors Paintings art I'm painting in Paris, Roma, Espain, Canada, Miami since 1993 Name painting is personalized gifts and fun to give, receive for all occasion such as baby showers, newborn baby names, birthday, wedding anniversary, Christmas, Valentine's day's or for decorating kids rooms. Our Name Painting art will create a unique gift that you and your loved ones will admire and cherish for a lifetime. Thank you.
CONTACT
EMAIL. chez@j umaqui.com, phone TEL:786 487 1992
Copyright © JumaquiCompany - All Rights Reserved - U.S. Patent JUMAQUI ART STUDIOS - 6255 sw 8 st Miami Fl. 33144 USA © Copyright All images (artwork, pictures and thumbnails) are the © Copyright 1996 - 2018 of Jumaqui and the featured Artists. Any subsequent copying or use of these images in any manner is strictly prohibited. Conception- Creation & referencesJumaqui Mamani
All of these works are copyrighted and deposited in
INPI et la Maison des Artistes PARIS.